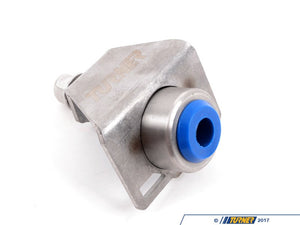 Shifter Arm Bracket with Polyurethane Bushing - E28, E30, E34
Vague or slopping shifter feel even after installing a short shifter or new OE shifter linkage bushings?  Looking for a more precise shifter feel in your classic BMW?  Consider replacing your old, worn rubber rear shifter bushing with new Turner poly to get the best shifting experience possible!  The Turner engineering team wasn't satisfied with the other options on the market, so we set out to design the best solution for ease of installation and performance.

The competition requires the installer to cut or burn the rubber bushing out of the stock housing to be able to install their poly bushing, requiring reuse of an old worn out housing, or buying a new costly bushing assembly.  We decided this was cumbersome and unnecessary, so we designed a complete upgrade replacement bracket with a 70A polyurethane bushing preinstalled for a quick bolt-in installation.  Our bracket is precision formed with a CNC machined and TIG welded bushing cup to perfectly match the OEM bracket, and is made from 304 stainless steel for exceptional corrosion resistance.  The result is a complete design solution that creates much crisper shifting with nearly zero added NVH for a more engaging and enjoyable driving experience.
Note: Some shifter arms have a mushroom-shaped end. Use extra care installing our bushing on these arms. Filing this mushroom down makes installation easier, however simply applying sufficient pressure to the back side of the bushing during installation will allow this bushing to install smoothly.
This is the last bushing you will ever want or need for your E28, E30, or E34!
Product Features:
Pre-installed bushing, NO cutting or burning for installation
Corrosion resistant 304 stainless steel mounting bracket
70A durometer poly bushing for reduced NVH
Ready to install out of the box
Replaces Genuine BMW part number 25111220707
Made in America