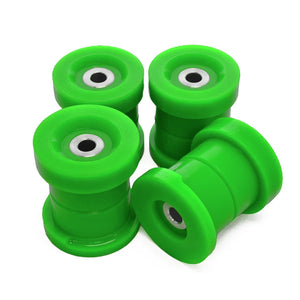 Rear Subframe Bushings - BMW E36
Revshift polyurethane rear subframe bushings completely replace the oem rubber bushings on all BMW E36 cars except for the 318ti. These bushings stiffen the subframe improving the vehicles handling capabilities.
Improves handing
Will not wear out like oem bushings
Properly dampens the rear subframe
Revshift bushing lube included

Formula Drift Spec
Subframe to chassis clearance is specified for the E36 in the Formula D rule book. We designed these bushings to comply with the FD specs. They will pass tech in all FD sanctioned drift series.


Lifetime warranty
Sold as a set
Hardness
80A black: Slightly stiffer and stronger than OEM rubber. No additional NVH. Great choice as an upgraded stock replacement (OEM+).
95A green: Significantly stiffer and stronger than OEM rubber. Minor increase in NVH. Excellent for enthusiastically driven street cars and track cars.
70D white: Drastically stiffer and stronger than OEM rubber. Moderate increase in NVH. Most commonly used on dedicated track cars.
(NVH = noise, vibration, harmonics)
Learn more about choosing polyurethane here: https://revshift.com/pages/polyurethane