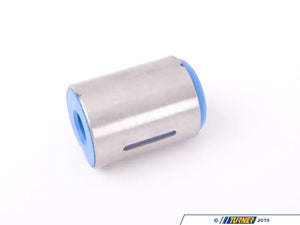 Polyurethane Shifter Arm Carrier Bushing - E36 E46 E9X F30 F32 E39 E60
When you think performance you may not always think about the parts that don't make power or improve your handling so key upgrades get overlooked. Even when upgrading your transmission the first upgrade is usually the clutch or a short shifter, but what keeps your short shift kit on target? The bushings that hold the shift arm assembly in place. The bushings from the factory are designed from rubber to reduce the NVH from the power going through your transmission, this is designed to be appealing to the mass of BMW customers. As enthusiasts we are often looking for more of a connection, enjoying some slight feedback from your BMW with improved shifting response & reduced slop for crisp accurate shifting especially when it counts.
The Turner Motorsport Performance rear shifter bushing is designed to remove the shifter play caused by an old failed rubber shifter bushing. Manufacturing the bushing from polyurethane instead of rubber reduces the amount of stretch caused by the moving part through the bushing. This maintains the direct crisp feel from your shifter assembly. When your OE shifter arm bushing begins to fail you will notice slop in shifting potentially making it easier to miss gears and often time causes an obvious vibration and movement from the engine rpm's.
If you're looking for noticeably crisper shifting without adding much NVH (Noise, Vibration, & Harshness) then this is the bushing for you.
Features:
Corrosion resistant 304 stainless steel mounting sleeve with bonded 70a polyurethane
Stiffer bushing results in crisper shifter feel and a more engaging driving experience.
Ready to install out of the box - no modifications required
Replaces Genuine BMW part number 25111222015 and 25111222652
Improved durability over OEM rubber
Made in America