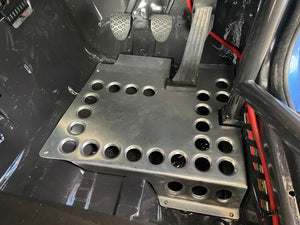 E46 Floor Plate - Driver RHD
For those that have removed the e46 interior, you will know about about the uneven floor pan. Save yourself the time of trying to make a universal solution work that will never fit just right or look as good.
We are now offering a bolt in solution that is very light yet extremely rigid. We leave the roll-cage landing point uncut for you to cut out wherever it lands in your car specifically. Four 3mm holes are pre drilled for mounting, wether this be rivets or riv-nuts for easy removal. The plate slides under the accelerator pedal mounting bracket leaving the plate perfectly flat.
For any further details please get in touch.