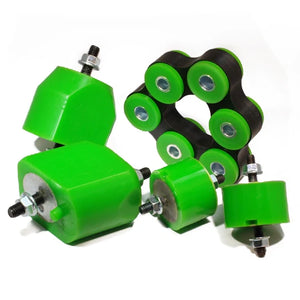 E30 24V Swap Kit
These mounts are designed for a 1983-1991 E30 BMW 3-series with a 24 valve M50/M52/S50/S52/S54 engine swap with an E21 brake booster. They use the oem motor mount bolt holes on the E30 subframe. The mounts are angled with offset bolts to position the engine so that proper drivetrain alignment is maintained. They are used with E36 engine brackets.
Our standard BMW trans mounts are used with the ZF transmission and OEM E30 crossmember.
The race flex disc adapts the 96mm/12mm ZF transmission flange to the 78mm/10mm E30 driveshaft. It allows you retain the oem 325i driveshaft when doing a 24v engine and ZF transmission swap. (Not compatible with the 4-cylinder driveshaft)

The race flex disc is very rigid and requires precise installation. The driveline must be properly aligned and all driveline components must be in good condition and properly balanced. The engine mounts, trans mounts, differential bushings, and subframe bushings must all be rigid to prevent driveline movement. A new center support bearing and driveshaft centering bushing are recommended.

This kit includes:
2x motor mounts
2x transmission mounts
1x 24V race swap disc 

Made by Revshift in the U.S.A. from high quality polyurethane.
Hardness
80A black: Slightly stiffer and stronger than OEM rubber. No additional NVH. Great choice as an upgraded stock replacement (OEM+).
95A green: Significantly stiffer and stronger than OEM rubber. Minor increase in NVH. Excellent for enthusiastically driven street cars and track cars.
70D white: Drastically stiffer and stronger than OEM rubber. Moderate increase in NVH. Most commonly used on dedicated track cars.
(NVH = noise, vibration, harmonics)
Learn more about choosing polyurethane here: https://revshift.com/pages/polyurethane