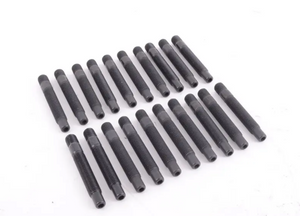 Bullet Nose Wheel Stud Kit - (E30, E36, E46, E9X)
Wheel studs are among the safest and most beneficial upgrades you can make on a track car. Not only are wheel studs safer than wheel bolts but they make changing wheels/tires much easier. One of the frustrating things about installing your wheels on the hub is that it's difficult to line up the wheel on the bolt holes. As wheels get larger but also heavier it's even more trouble. Add in a wheel spacer and the task is twice as hard. BMW does produce a wheel alignment pin for this purpose but if you're changing wheels often a stud conversion is the better way to go.

Our original bullet nose studs are available in 78mm, 82mm and 90mm overall lengths. The 78mm works great for cars that do not use a spacer (or a spacer smaller than 15mm). We recommend the 90mm length for cars that have a spacer larger than 15mm. These studs come with a black magnesium phosphate coating for excellent corrosion resistance. These studs are perfect for dual-purpose street/track cars. The studs are stronger and safer than wheel bolts and have a barrier against corrosion which makes them suitable for street use. For a dedicated race or track car, where wheel changes or pit stops are more frequent, check out our racing dry lube studs.

Our studs are also designed and manufactured with the properly sized shank to work with a wider range of BMW wheel, nut, and brake rotor combinations. We intentionally avoid the extra large shoulders you see on other studs because they can interfere with some brake rotor hats. The extra-large shoulder can be too large to allow the rotor to pass through and drilling out the holes is required (not cool!) Our studs have the sufficient shank for the brake rotor without interfering.

Not all wheel studs are created equal. We don't take a manufacturer's generic wheel stud from their catalog and call it our own. Turner Wheel Studs are manufactured to meet our own specifications. Beware of cheaper studs on the market! We have seen other studs similar to our own designs that are not a true BMW fitment. There are differences that we have ironed out over our years of selling wheel studs for the BMW market. Our stud prices may be slightly higher than the rock bottom prices on the web but we promise that it's a higher quality.
Turner Bullet Nose Wheel Stud Features:
Black phosphorous corrosion resistant coating
Innovative nut-starter and bullet shape radius that all but eliminates cross-threading
Long shank for good brake rotor alignment
Heat-treated aircraft quality alloy steel
Brand: Turner Motorsport